Nichibukan Naginata
Naginata in New York City and New Jersey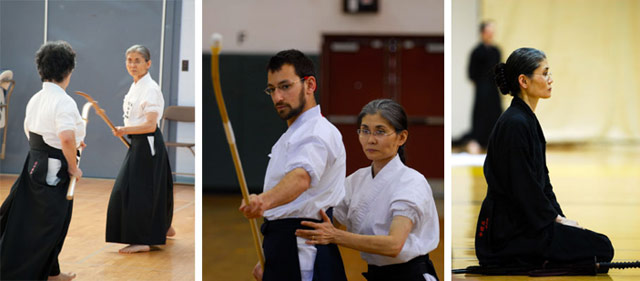 "Everything is part of training, from breathing to walking."

Yamauchi Sensei
Sachiko Yamauchi Prough
Sachiko Yamauchi Prough, president of the United States Naginata Federation and a respected naginata and iaido teacher, passed away in New Jersey on January 5, 2012, after suffering an aneurysm on New Year's Day. She was 52.
Born in 1959, Yamauchi Sensei started her naginata training in 1971 at the Naginata Club of Matsuyama Shinonome Junior High School in Shikoku, Japan. By 16 years of age, she had reached Shodan, and in 1996 she was the youngest ever to be promoted at that time to her current rank of Kyoshi, or senior instructor.
She was a fearless and skilled competitor with an impressive tournament record, winning national tournaments in high school, college, and as an adult. She also served a number of roles with the Matsuyama City Sports Association, Ehime Naginata Federation, Ehime Prefecture Sports Association and All Japan College Naginata Federation.
Yamauchi Sensei moved to the United States in 1999 and married John Prough, an iaido instructor who was the founder of the Japanese Swordsmanship Society. She later attained the rank of Yondan in iaido and trained in Muso Shinden-ryu.
After moving to the United States, Yamauchi Sensei continued to teach Naginata, founding the Nichibukan Naginata school in New York and New Jersey and teaching seminars around the country and internationally. In time, she became the instructor of the first United States high school naginata club, at Kearny High School in Kearny, NJ, mentored the development of naginata at Mount Holyoke College, and assisted in the founding of naginata in Canada.
She encouraged students to work hard both inside and outside the dojo, saying "Everything is part of training, from breathing to walking."
A beloved teacher, Yamauchi Sensei had a huge influence on the development and promotion of naginata in this country, and will be greatly missed by her husband, family, friends, and her many current and former students.
Her late father was Moriaki Yamauchi. Her husband John Prough passed away a year later, in 2013. She is survived by her mother Chieko Yamauchi, sister Miwa Shigematsu, and the many students who carry on her legacy.